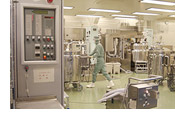 In April 2006, Torii assumed responsibility for the JT Group's pharmaceutical manufacturing operations, which have been integrated into our Sakura Plant. Some products manufactured at this GMP*-certified plant include the topical corticosteroid ANTEBATE OINTMENT and ANTEBATE CREAM. In addition, Torii is responsible for manufacturing investigational new drugs developed by JT.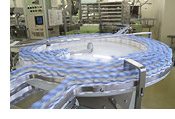 Importantly, in manufacturing drugs, Torii focuses not only on quality but also on reducing the environmental burden of these operations, as evidenced by the ISO 14001certification of the Sakura Plant.
We will continue our efforts to ensure a reliable supply of high-quality pharmaceutical products.