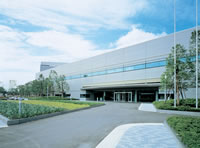 JT aims to build up a unique, world-class pharmaceutical business driven by R&D, and to increase our market presence through original and innovative drugs, implementing efforts in research and development that will allow us to merit the respect and appreciation of patients and medical staff around the world.
The JT Central Pharmaceutical Research Institute consists of six specialized research facilities that collaborate closely on new drug R&D in priority areas:(1) glucose and lipid metabolism, (2) immune disorders and inflammation, (3) virus research.
As a result of the division of R&D functions between Torii Pharmaceutical and JT, JT is now responsible for R&D activities pertaining to new compounds.